Diagnosis
Diagnosis describe any diseases, illnesses or injuries a patient may have. It can be represented in a claim as ICD 10  code. ICD-10 codes are alphanumeric codes used by doctors, health insurance companies, and public health agencies across the world to represent diagnoses. Every disease, disorder, injury, infection, and symptom has its own ICD-10 code. ICD-10 codes are used for everything from processing health insurance claims to tracking disease epidemics and compiling worldwide mortality statistics.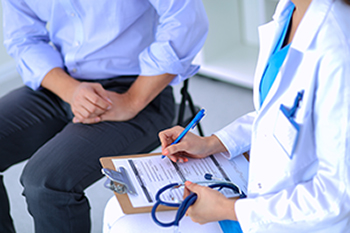 ICD-10 codes are alphanumeric and contain 3-7 characters. Each code describes a particular diagnosis in detail. 
The first 3 characters define the category of the disease, disorder, infection or symptom.
Characters in positions 4-6 define the body site, severity of the problem, cause of the injury or disease, and other clinical details. 
Character 7 is an extension character used for varied purposes such as defining whether this is the initial encounter for this problem, a subsequent encounter, or sequela arising as a result of another condition.
ICD-10 chapters
The following table lists the chapter number (using Roman numerals), the code range of each chapter, and the chapter's title from the international version of the ICD-10.
| | | |
| --- | --- | --- |
| Chapter | Block | Title |
| I | A00–B99 | Certain infectious and parasitic diseases |
| II | C00–D48 | Neoplasms |
| III | D50–D89 | Diseases of the blood and blood-forming organs and certain disorders involving the immune mechanism |
| IV | E00–E90 | Endocrine, nutritional and metabolic diseases |
| V | F00–F99 | Mental and behavioural disorders |
| VI | G00–G99 | Diseases of the nervous system |
| VII | H00–H59 | Diseases of the eye and adnexa |
| VIII | H60–H95 | Diseases of the ear and mastoid process |
| IX | I00–I99 | Diseases of the circulatory system |
| X | J00–J99 | Diseases of the respiratory system |
| XI | K00–K93 | Diseases of the digestive system |
| XII | L00–L99 | Diseases of the skin and subcutaneous tissue |
| XIII | M00–M99 | Diseases of the musculoskeletal system and connective tissue |
| XIV | N00–N99 | Diseases of the genitourinary system |
| XV | O00–O99 | Pregnancy, childbirth and the puerperium |
| XVI | P00–P96 | Certain conditions originating in the perinatal period |
| XVII | Q00–Q99 | Congenital malformations, deformations and chromosomal abnormalities |
| XVIII | R00–R99 | Symptoms, signs and abnormal clinical and laboratory findings, not elsewhere classified |
| XIX | S00–T98 | Injury, poisoning and certain other consequences of external causes |
| XX | V01–Y98 | External causes of morbidity and mortality |
| XXI | Z00–Z99 | Factors influencing health status and contact with health services |
| XXII | U00–U99 | Codes for special purposes |

Apple Billing And Credentialing | copyright 2019